We had the great pleasure of having Sparshalt Agricultural Collage visit Shamwari Wildlife Conservation Experience in April.  As usual they spent two weeks with us and not even the wet weather kept them from working and playing hard.  Can you believe that in only a short two short weeks we managed to cram the following into our schedule?
We chopped alien prickly pears and thorny Acacia bushes to clear roads, fed the buffalos and nyalas at the breeding centre, learned about held snakes, started a new community project (planted trees, erected a fence around a playground, painted tables with the kids and planted poles for a kitchen project at a school in Colchester), we watched eland being offloaded from the game truck and into their holding pens, we did lectures and talks, had a rehab tour and spent some time feeding lovely Debra the zebra and her donkey friend, we went on an anti-poaching walk and learned about poaching in South Africa and how to find snares, we spend a whole day looking for elephants only to find them on the furthest possible hill, but found dung beetles pushing their balls, black rhino, the king of the jungle and some hippos instead. We got stuck in the mud and got dirty and cold but we had fun!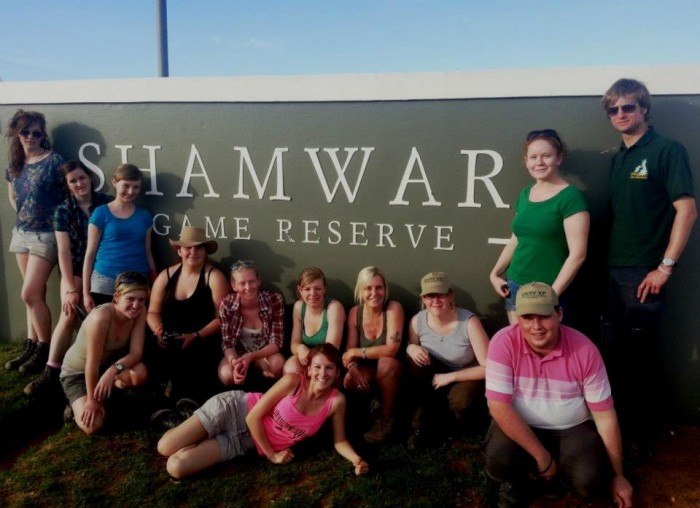 Besides spending time with us Sparshalt also got to do some pretty cool stuff in the area. They visited Daniel cheetah farm, raptor and reptile centre, Addo Elephant National Park, did an elephant back safari, went zip-lining through the tree tops and took a scenic plane ride.
A big thank you to the awesome group who introduced us to chubby bunnies (a game involving multiple marshmallows in your mouth) and hope to see you back soon!
Cindy – SCE Coordinator