Spring is here and because of such a wet winter it is a very welcoming to see the arrival of all the wild flowers. Even the animal seem to be  better now that the days are getting longer and starting to warm up.
Thanks to the baby boom of lion cubs it has been quite a challenge to monitor all the lionesses and to work out who has had cubs and which cubs belong to which lionesses. Now that the cubs are getting a bit older the moms are brining the cubs out more which is making it a lot easier for us to work out who is who and who belongs to who. It has really been amazing to watch mommy lion walking through the bush being followed by her six youngsters.
The most exciting experience of the month has been getting involved with a very important relocation process of two black rhinos. One young male and female were captured and relocated to another reserve to be a part of a new breeding program. The process involved a lot of patience,  however when the helicopter pilot announced on the radio that he had spotted the female all the excitement started, luckily for us and our capture team she fell asleep in a accessible place, which is lucky for us considering black rhino live in such thick vegetation.  It must have been our lucky day as the male was found soon afterwards and by the evening they were both safe in the boma and ready for their long trip to their new home.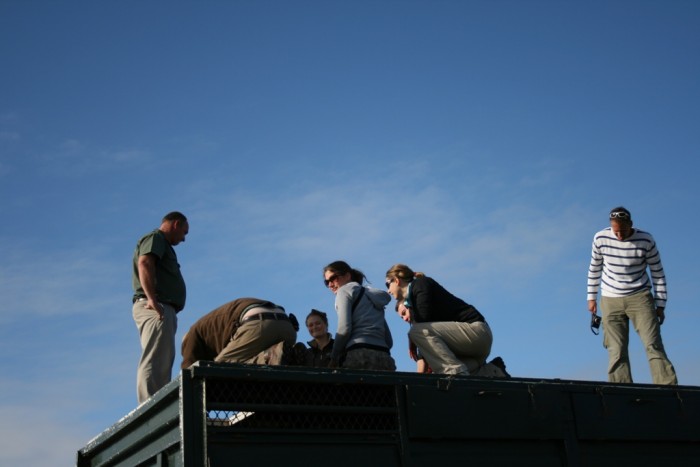 Thanks to generous donations from volunteers we were able to buy panel heaters for our pre school in the community. Last week we installed them and connected them so now the kids will be warm on the coldest of days. They are child friendly heaters and use low energy so they are ideal for their needs.
While we were doing our rhino monitoring in the south, we were privileged to witness an interaction between two white rhino and two black rhino, we spent 20 minutes observing them and their behavior towards each other. The white rhino seemed to be very inquisitive, whilst the black rhino were showing more of a defensive front. The black rhino soon became relaxed therefore the white rhino came closer to them where they could interact with each other.  As we were leaving they had all became friends are were eating and enjoying the sun.
It was the annual sunshine coast trail run last week end and we were once again invited to face paint for charity. We were well supported by the kids and managed to raise some money for their charity. Luckily we had some artistic girls to help us.
There are some exiting things planned for next month so be sure to log on to see what we have been up to.