One of the main focuses of the conservation team at Shamwari Conservation Experience is to monitor the animals on the reserve and retrieve vital data to ensure efficient management of the vast ecosystem that exists here at Shamwari Game Reserve in the Eastern Cape.
With the big cats the easiest way to keep tabs on what they're up to, habits and favourite locations, is to have an internal transmitter placed in their abdominal cavity which emits a signal to the telemetry devices the team use to track them. These systems have a life span of around 2 to 3 years, hence there is a need to bring the animals in to change the unit to ensure the tracking system remains efficient and in good working order.
The volunteers were on hand to help bring in the dominant female leopard, locally known as Sandile, to have her transmitter changed. Resident Vet team, including Dr Johan Joubert, were on hand to show the students the process and how the transmitter is extracted and replaced. First the fur on Sandile's undercarriage was shaved and the whole area prepped for surgery.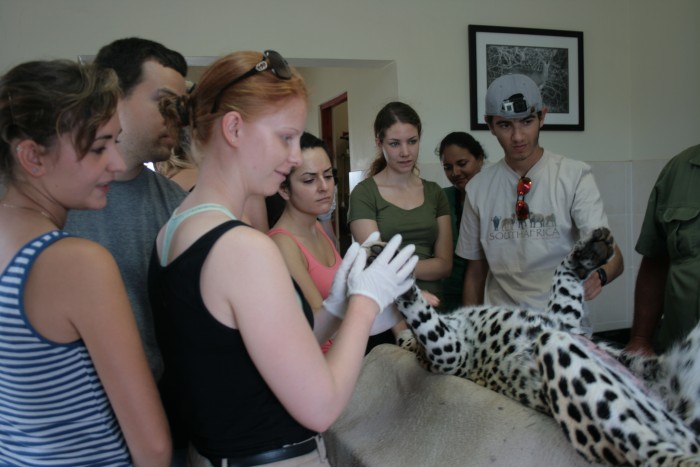 This is where the students were able to get up close and really inspect the intricate details of a leopard's makeup, something very few people in the world ever have the opportunity to do. This can be one of the most humbling times for our students, their appreciation for the beauty and magnificence of the animals they get to work with reaches a whole new level when this kind of veterinary work experience opportunity arises.
JP, a student who has just arrived on the course, has started his journey to study and train to become a Ranger. His thoughts on the experience were, "It's been an absolute privilege to be here at SCE to experience something as incredible as this. Being able to be a part of such a massive conservation initiative is something I find hard to explain, but I know it will impact me for life.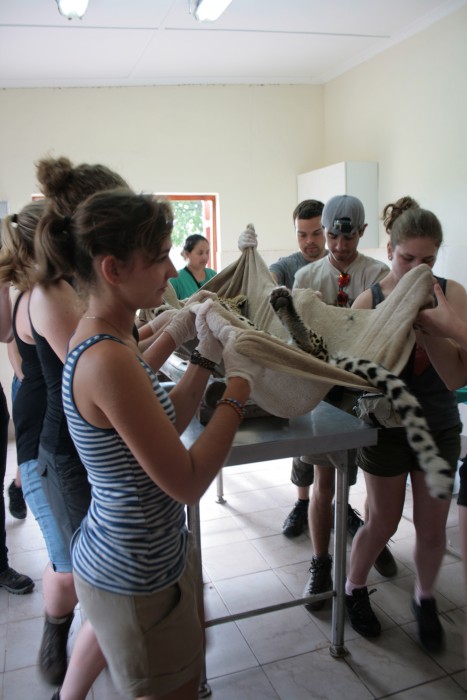 The team carried Sandile out of the theatre after the operation and put her in a quiet place to wake up slowly and safely. In the morning, she was taken back to the spot she was found and released back onto the reserve.  With a new transmitter in place, the team here are guaranteed to be able to gather more information about Sandile's habits and proficiency, as well as ensure she is safe and in good health.Another awesome moment on one of the best wildlife conservation volunteer programmes in South Africa.