Another week is over and we are (once again) in awe about how fortunate we have been with our Global Vets experience. As we mentioned in our previous blog, we arrived on Monday of this week and began working with African wildlife immediately. After arriving at Dr. Burger's house on Monday we did fecal floats with the elephant and sable feces that we collected. We confirmed the gastrointestinal parasite diagnosis in the sable when we found Trichuris and Haemonchus eggs in the slides we made. The elephant feces were unremarkable (as Dr. Burger suspected) so we would have to make sure to get as many blood and tissues samples as we could the following day.
The next morning we went straight to visit the elephant so that we would still have time to go treat a buffalo suffering from lumpy jaw. It took about half an hour to properly sedate the elephant cow so that she was comfortable and calm in a standing sedation. Her young calf playfully approached us because we had brought in some oral treatments for the cow that he was eager to try out. Dr. Burger took some biopsies from her feet and examined the rest of her body, finding similar skin lesions on the back of both her ears. The keepers began to worry that she was too sedate because she was resting her tusks on the enclosure bars, which could cause them to break, so we reversed the sedation and monitored her for a while before leaving. We then went to the veterinarian's house to wait for the winds where the buffalo with lumpy jaw was to calm down. We killed time there by learning how to aim and fire his dart gun. At around 3 pm Dr. Burger told us we wouldn't be able to visit the buffalo because of the strong winds. Some things that limit how much we get to do each day include the weather (it is winter here right now) and the distance between each case (we usually drive over an hour to get to each location), although the winter is the busiest season for wildlife vets here.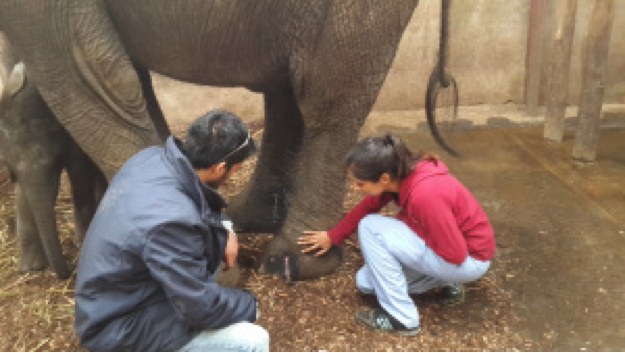 On Wednesday we spent the day darting and treating buffalo on a farm about 2 hours away from the house. The experience was amazing because we got to administer different treatments on the buffalo, learn how to accurately measure their horns, and perform rectal palpations to pregnancy check the females. The appointment took a long time and we were exhausted by the end of it!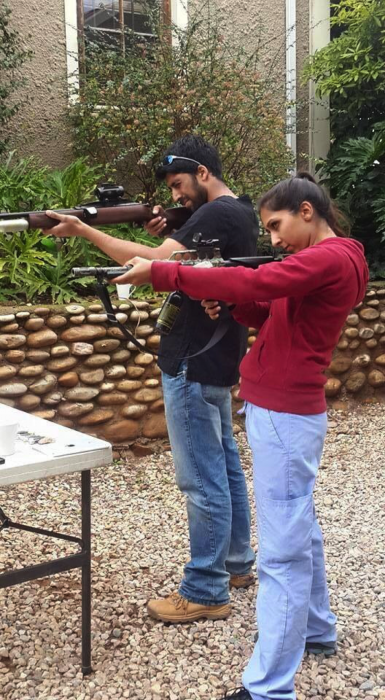 The weather on Thursday was bad again, so Dr. Burger planned some touristy activities for us to enjoy including visiting meerkats in their natural habitat during sunrise and a behind-the-scenes tour of a wildlife ranch.
On Friday we went to a beautiful game farm to treat and move some of the farmer's young impala and Nyala antelope. We began with the impala and got two done before they got too nervous for us to get close enough to dart them. The Nyala bull was a more difficult experience because he got very spooked after getting darted and went towards a bushy hill. He only made it part way down before 6 of us grabbed him, blindfolded him, and carried him up the hill to the pick-up truck. We were able to quickly move him after that and then reverse the sedation. Darting and treating one animal takes a long time, and it becomes crucial immediately after darting to closely monitor respiration rate. It took hours before we had done 3 animals, we had tried and missed a few more, and gave up deciding to come back next week to finish the job.
As dusk approached, we went to visit the elephant and provide an oral immune stimulant for her because Dr. Burger is now suspecting elephant herpesvirus. Her lesions seem to be spreading – there are a few around her flank region that weren't there before.
 On Saturday Dr. Burger offered to take us to his farm for the weekend… I feel I should elaborate on that a bit.. When people say 'farm' or 'ranch' around here, they are generally referring to a large plot of land, usually a few hundred hectares big, that is spread over a few mountain ranges, where they keep their private giraffe, zebra, antelope, ostrich, etc. Dr. Burger's farm was no different. Before going there, we decided to detour a bit to visit a private wildlife reserve (that is about the size of Singapore) to treat a new addition to the reserve – a caracal suffering from a facial abscess. Our work with the caracal went smoothly and within an hour or so we were done and enjoying coffee with some of the reserve employees that live there. One of Dr. Burger's friends, and the chief game ranger at the reserve agreed to take us out on a game drive. We drove into the reserve for a while before parking to try to track some elephants on foot. Along the way, we found the tracks of many other animals that live at the reserve.
There is a certain thrill, almost an uneasy-yet-excited feeling, that rushes through your body as you follow the the tracks of a male lion in his natural habitat, or put both feet in the same spot as an elephant that you know is not too far ahead of you. It wasn't long before the fresh elephant tracks led us to a breeding herd that lives on the reserve. We watched them from the bushes for a while, staying downwind and silent as we followed them, to ensure our presence remained undetected. Soon after, we spotted 3 white rhinos off to the side of the elephants, so we stayed with them until they decided to take a nap, their large bodies quickly becoming completely hidden in the thick brush. The cold air and rain that had suddenly taken over the otherwise cool-yet-comfortable weather sent us back to the car faster than the thought of the white lions stalking us ever would have, and we continued our wildlife hunt en route back to the exit, spotting cheetah, zebras, a brown hyena, and other animals along the way. On Sunday, we got to continue our game drive on Dr. Burgers farm. First we went for a walk, coming across a fresh impala kill surrounded by leopard feces and tracks. Even though it was a cold winter day, we were able to find tons of antelope, zebra, giraffes, and a few ostriches on the farm. What an amazing end to an incredible week! Waking up in that environment was surreal.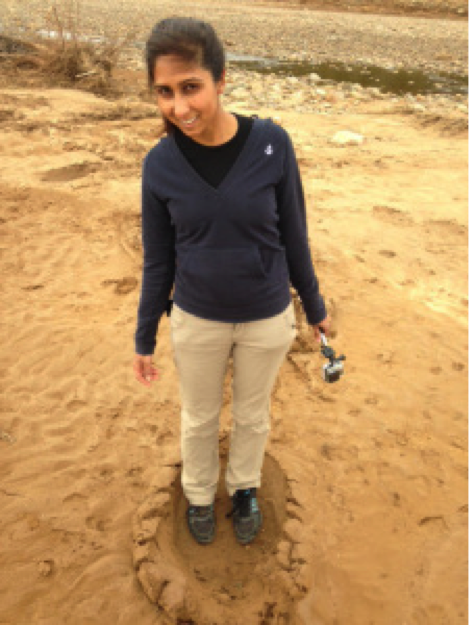 Our work this week with Dr. Burger has completely changed both our perspectives on wildlife veterinary work and given us a very personal, in-depth understanding of wildlife in South Africa. Dr. Burger is an intelligent and well-respected man that had been answering all our questions and is constantly starting meaningful discussions with us. We couldn't have asked for a better teacher for our wildlife veterinary experience. We are really looking forward to what the next week has to bring, but are regretting that this will be the last week of our Global Vets trip! -Noreen and Vivek