Here is the final piece of SGS College's diary of their time at the Shamwari Conservation Experience – Be on the look out for Cornwall College's diary next week!
Tuesday 2nd June
James & Becca
Today we woke up and prepared for a day long walk which had been arranged the previous day and went down to breakfast to see nearly everybody already up, munching on their jam on toast!
It took us about 30 minutes to get to the farmer's land which we were going to hike on. When we got there we found that the gate was locked meaning that everybody had to climb through a gap in the fence or volt over the wall, this was most definitely not an elegant affair! Once we had started walking, everybody started to realise just how little we enjoyed walking back at home, yet somehow all of us seemed to be enjoying the walk due to the scenery and the general atmosphere of the light scrub type path.
THE HILL!!! What an absolute nightmare that was, nearly everybody had trouble getting up, even Mike and Cindy. We swiftly established which people were going to struggle the most with the rest of the walk and would need help/support. The destination that we had set our sights on was a cave at the far end of the valley in the farmer's land. The view from on top of the hill was breath taking and it felt like the breeze was strong enough to push over an elephant.
When we got to the cave we decided to eat our packed lunches that consisted of: ham, cheese and lettuce sandwiches, a packet of crisps, a protein bar, and a great, big juicy apple or a saggy old pear. The cave itself was quite chilly due to the fact that there was none of the sunlight but the entire breeze, but we did at least have an amazing view from a sheer drop at the side of the cave.
On the way back everybody quickly discovered that us as human beings were not designed for anything more hassle than driving a car, a substantial number of people started to either fatigue or become pained by the walk. When everybody got back to the trucks there was severe alleviation had by all and everybody decided to have a shower the moment they got back.
After tea, nearly everybody was so tired that we went straight to sleep, and that was the end of our day.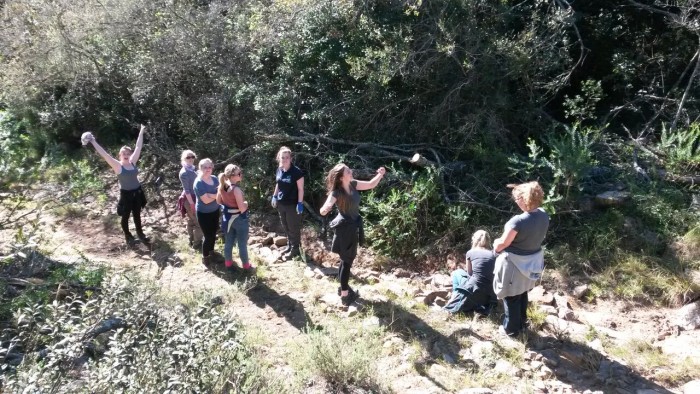 Wednesday 3rd June 2015
Jasmine and James
We started the day bright an early with Rhino monitoring, it was pretty cold with a light breeze but the weather wasn't too bad. All the groups saw two sets of rhinos that included 2 young males (w522 and w104), which were seen in the acacia open area. They were identified by notches in the ears and comparing them to sheets that had been printed previously.
After the rhino monitoring we were told that we would be going out and looking for a leopard that had been seen previously in porcupine peak. It took us about 40 minutes of tracking with a special device that picks up on a bleep that is sent out from a collar that had been previously placed around the leopard's neck. When this device was held in the right direction it would give out a beep that would get progressively louder depending on the proximity to the animal. When we got to a small mountain range at the side of the plains where the rhinos had been spotted we sat there for an additional 30 minutes staring at the side of this mountain, Anna (the tall one) eventually cried out that she had seen the leopard and then all of us on Mikes jeep saw it. It then disappeared in to the scrub for an additional 20 minutes whilst we waited to see it again in the freezing cold shadow of the mountain. Mike had been making some very accurate sounding leopard calls that he described as a "sawing like sound".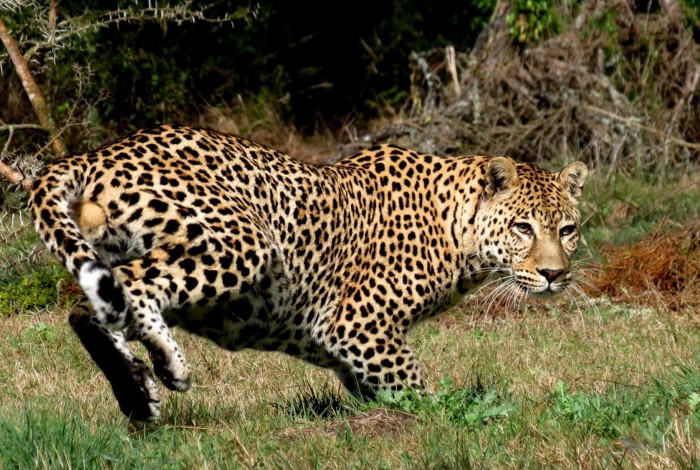 Lunch was at 12 and followed by that was a poaching talk that highlighted the problems that were happening in South Africa, and the numbers that have decreased in relevant years, in Shamwari and other game reserves. After the talk we promptly went to the Born Free Centre where we all saw animals that had come from bad situations in the past and were being cared for by the organisation and given the best possible quality of life, rather than a circus or poor zoo environment.
THE NIGHT SAFARI!! After we had all had tea, we had to get prepped to go on a night time car journey through the resort. There were quite a few animals that we saw including a fiery-necked nightjar and an eagle owl, a load of impala and a single female lioness, which we only saw for about 4 seconds due to the fact that Ceri Ann SCREAMED because a moth landed on her lip which she still claims was bigger than it actually was! The only way we were able to locate the animals in most cases was by the reflection of light off of there eyes which would glow red, white or green depending on the species. Finally, we went back to the lodge got de-moistened and slept.
Thursday 4th June 2015
Jas and James
Today was very interesting. We woke up to the aftermath of a huge storm that had taken place during the night and had continued to rain the entire morning. We headed down for breakfast where there was toast, an assortment of cereals and pancakes which were warm, buttery and seriously scrumptious and a huge bowl of yogurt.
We then walked up to the education centre that is on the site for a very informative talk about a range of the most prominent species of snake and spiders that were present in South Africa, the affects that they would have if one of us were to get bitten, how to react to that situation and the threat that each individual one posed. The talk was around two hours after which everyone found things to do up until lunch time, some of the group even stayed to pin more insects and add them to the growing collection.
For lunch we had some very nice home made sausage rolls that had a very nice smoky/spiced taste and had very light fluffy pastry that melted in the mouth, to accompany this we also had a few varieties of fresh vegetable salad and a type of kidney bean called konkani. After lunch we went back up to the education room talking and deciding what the next activity would be due to the roads being sodden and in some cases completely flooded and eroded away, making driving safely impossible.
The options that we had were pinning insects to add to the now very impressive collection of around 24 different species from multiple families and sub-species. Another option was to help create ideas for the community outreach project the next day. Some of these ideas included making puzzles, games and other such activities.
After about an hour of these activities, around half of the group decided to split off and go looking for frogs to add to the collections that had been collected previously or to search for insects to add to the board. Dan and Jacob were particularly adept at this finding four frogs (three bronze and one common) as well as an assortment of new insects and spiders.
After tea, which was great big fillets of battered fish, rice and vegetables, some of the group decided to watch Lion King, while others did their own thing whether that be in their own room or in the social area provided. Eventually everyone made their way to their own room and fell asleep, thinking about the day we were going to experience with the children tomorrow.
Friday 5th June 2015
James & Jasmine
This was a particularly good morning due to the fact that none of us needed to get up until 9:30 for breakfast which consisted of mini sausages, diced potato, scrambled eggs and beans, so all in all a very good start to the day!
Today being Friday was designated to be a community outreach day except this week was with the secondary school rather than nursery. When we arrived at the school, none of us actually knew what we were going to be doing other than Cindy and Mike.
It transpired that we were going to be shown various "dangerous/harmful" animals from the surrounding areas; this included a common brown house snake, two puff adders (a baby and an adult), a cape cobra (the most deadly snake in South Africa) and a spotted eagle owl. All of the students and even the teacher were absolutely terrified of these animals due to various superstitions and stories that had been blown out of proportion within there communities. An example of this would be that they believed that an owl sitting on your house meant that someone inside would die within a few days, rather than it just being there for a roost or to see their prey.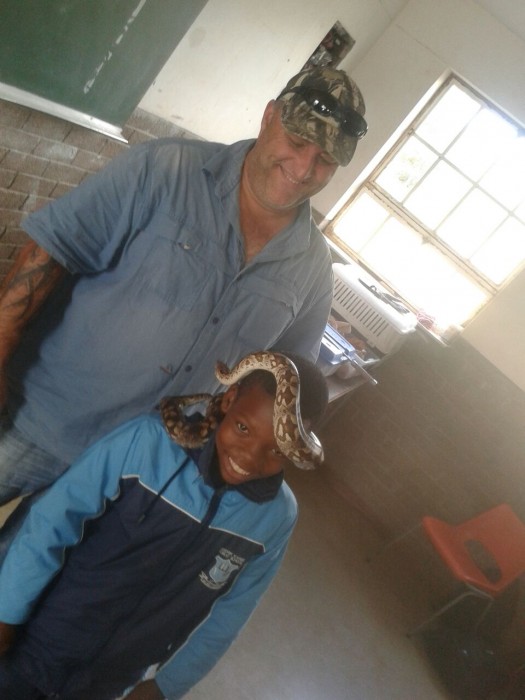 This talk went on for a few hours and when we had finished we drove over to the nursery to see all of the children and to drop off a load of objects that would really help them including pens, pencils, top trumps and a load of other objects.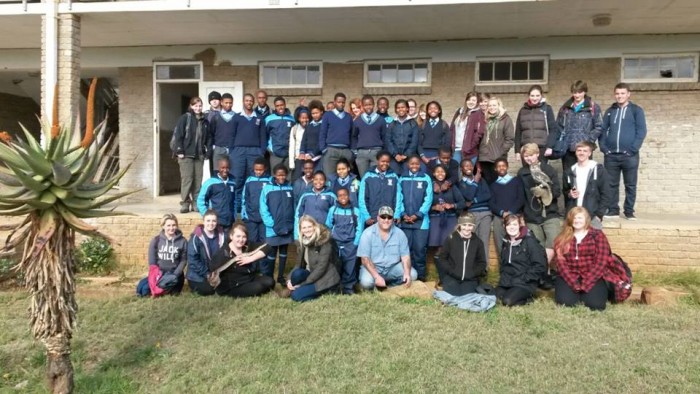 Once we had left the nursery half of us went predator monitoring to see if they could find some cheetahs and the other half went to shoot a 223 marksman's rifle and a 22 gauge shotgun. The man that was instructing us on the use and safety of these firearms was incredibly funny and made both the firing of the guns and the waiting about quite an engaging and entertaining experience (plus he was an absolute lad!). My favourite quote of the day was when he decided to show us how to handle a poaching situation, when he said; "freeze, naughty man… Obviously that isn't what we actually say to them but this is the PG version!" which we all found incredibly funny. The session was also very informative about the law around the use of these guns and made it very clear that these were not toys.
When the shooting was over the second half of the group went to find all of the predators that the first half of the group had gone to see earlier. My personal highlight was when we found two cheetah brothers that had formed a coalition in order to make life easier for the both of them.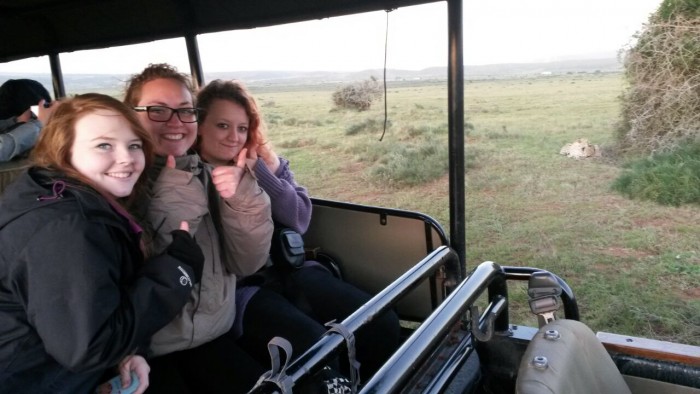 Due to it being quite late before we even set out to head back to Rippons the drive back ended up being very similar to the night drive that we had previously been on except it was much less moist and significantly colder.
The last group got back around 6:30 and after tea everyone dispersed and just chilled out.
Saturday 6th June 2015
James & Jasmine
Perhaps the most anticipated day of the week… going to town. We got up around 7.30am, as per normal, we had breakfast and had to be ready at reception for 8am to be picked up and taken by minibus. The journey time was expected to be around an hour but actually consisted of around 2 hours due to the roads being eroded due to bad weather earlier on in the week.
When finally getting to town, most of us saw KFC and McDonalds, which was rather tempting, and most of us were determined we would be having either of the two before returning home to Rippons! The first little activity was a walk along the beach side where there were a couple of stores with people selling ornaments, painting and jewellery. One thing that was clear with this is that the objects and souvenirs were over priced and many students in the group managed to get the price down by at least half of the original price.
Boardwalk was next the agenda, which included many shops and restaurants. Some people bought things for loved ones and many others bought jewellery for themselves and friends back home. After a short time on the Boardwalk we popped across the road for lunch in a small pub/restaurant looking place where we chose meals. Most students were not impressed by the food that they were given, but were more even more appalled at the service. After the meal we counted up the money started to gather our things and leave when the waitress demanded a 10% tip, this was something that I found extremely rude and some people refused to pay it as the service and food was, in their opinion, inadequate
After lunch we split into groups and half of us went to a penguin rehabilitation centre while the other half went and did some more shopping for the rest of the afternoon. The penguin centre was very interesting and gave some students a very good expectation as to what can be achieved in life. This was shown by a young boy of around 9 years of age that showed us round the centre. He told us about the history and what is happening to species around the borders, his talk and tour was very informative and we were all very impressed. After that we went back and had a further a 50 minutes to an hour of shopping. We all then met up at the entrance to the walk and went to KFC and got a few things to eat and drink before heading back to the vehicles and heading back to Shamwari.
Darkness fell on the way home and many people fell asleep and when arriving back at Rippons went straight to bed without any tea. All students then split of into the friendship groups and spent the rest of the night socialising if they hadn't gone to bed already.