There's no shortage of people with 'climb a mountain' on their to-do list. It's the kind of adventure travel activity that delivers memories and an achievement that stays with a person for their entire life. Unfortunately, many of us end up rubbing this item off of our lists because it's seen as too hard, or too expensive. Often it feels like you need a twenty year-old beard, grappling hooks, ten years of experience, nerves of steel and a wing suit to get to the bottom afterwards.
But that's not always true- there are a couple of famous and intimidating mountain ascents which are actually achievable for those with decent fitness and some determination. Here's a list of some of our favourites:
Mount Elbrus, Europe and Russia
Straddling Europe and Russia, this mountain is not technically difficult, but quickly-changing weather patterns mean that climbers have to be aware and well-equipped. The popular route is long, and climbers will have to be fit, but the view from the top is truly worth the hard slog (provided the weather is permitting!)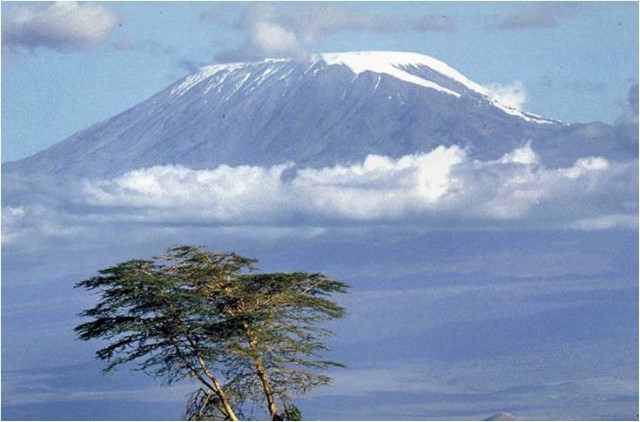 Mount Kilimanjaro, Kenya
The tallest mountain in Africa and the highest free-standing mountain in the world, Kilimanjaro is well-known for its accessibility to amateur trekkers. A novice climber is capable of completing their ascent in around five days, with very little climbing gear needed. There are several routes to the top, and here at Gap Africa Project, we offer two treks to the summit of Kilimanjaro, with a varying degree of difficulty to be found between the two. The 8 Day Kilimanjaro Trek via Rongai is the more challenging of the two, as you hike through the wilderness and discover the less populated sides to the mountain. For a slightly less demanding route, our 8 Day Kilimanjaro Machame Trek holds the highest success rate, offering stunning scenes from high walking viewpoints over five diverse climatic zones and low sleep opportunities for better altitudes.
Ben MacDui, Scotland
You don't have to go abroad to get a taste of what it feels like to climb a mountain (though we find once you've climbed one, you'll want to climb them all!). Ben MacDui is the second highest mountain in the UK, and offers amazing views over the surrounding area. Good fitness and the ability to navigate are required, but it's possible to ascend it with very little equipment- a great way to whet your mountain-conquering appetite.
Jebel Toubkal, Morocco
If Kilimanjaro doesn't strike your fancy, but you still want to explore Africa, Jebel Toubkal in Morocco is worth checking out. The highest mountain in north Africa, and famous for the pyramid at its peak, Jebel Toubkal is a challenging hike, to say the least. A trek that is normally spread over two days, the heat combined with the altitude makes this a more challenging proposition. But with an out-of-this-world photo guaranteed at the end of your climb, we think it's worth it!
Stony Bay Peak, New Zealand
New Zealand certainly isn't lacking in breath-taking views, with Stony Bay Peak in Akaroa easily considered as the vantage point over some of its most stunning natural beauty. The ascent is clearly sign-posted and offers grand sweeping views over the perfectly blue bay stretched below. This is one of the better hikes for amateur walkers, and boasts a menagerie of rare birds for the twitchers amongst us!
And there you have it, five mountains that, with a little preparation, you shouldn't be afraid to climb. As the great motown singers do say, "Ain't no mountain high enough, to keep you from getting the great views…" Or something to that extent… So what are you waiting for? Send us an inquiry to find out how you can be kick-starting your Kilimanjaro trek with Gap Africa Project today.