WHAT HAPPENED AT HESC
We were all very thankful for the rain that arrived on the afternoon of the 17th of January, as the excessive heat and humidity was getting to all of us, but more importantly the bush was in dire need of a good soaking. Little did we realize that what we'd initially welcomed with open arms, would so quickly turn to disaster. The downpour continued throughout the night, which in itself wasn't unusual, but when we woke up the following morning we saw that it was raining a lot more than normal.
Arriving at the Hoedspruit Endangered Species Centre, we inspected all the buildings to check for damage and leaks. Thatch roofs can only withstand so much, and given the unrelenting torrents of water, we were worried. Just as we'd suspected, everything was wet. We immediately set about mopping up the water and moving the furniture and equipment. Not knowing what was going to happen in the next 24 hours, we prepared for the worst. About an hour or so later we noticed that there was a river flowing right through Michael and Pikkie's enclosures. That's when we realised we were in trouble. By the end of the day there was an unimaginable amount of water everywhere! The Hoedspruit Endangered Species Centre's dam was overflowing, there were more than one river in Safari Park, and the roads were washed away. Our main priority was to make sure that all our staff members and animals were safe. Once we'd accomplished this there was nothing left to do but wait. The hours dragged by, while we sat around wondering when the rain would eventually stop. Thanks to Christo's expert driving skills we were able to check on the property from time to time throughout the day.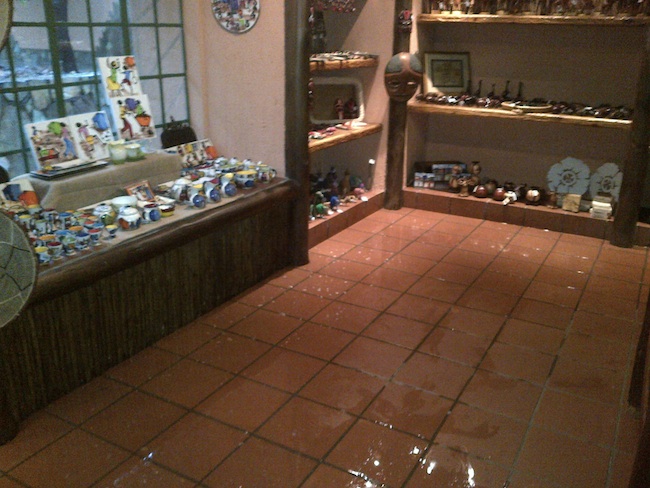 The rain finally let up very late that afternoon, and we were able to make another turn through the Centre to assess the damage. It was almost impossible to comprehend the sheer magnitude of water everywhere. Almost all our roads were washed away and most of our roofs leaked, but thankfully everyone – staff and animals alike – escaped without injuries. Koos and his squirrel friends also survived the floods without incident. Koos' furry mates sought cover inside their well-protected dens, while our parrot spent two nights at the manager's house. He was none too pleased about being cooped up there mind you, and is extremely happy to be back on his 'stoep' where he can chat with passers-by.