The revolution of the gap year is one that has been around for a long time. By its very nature, it seeks to break the shackles of routine and throw the traveller into a world of unpredictability and excitement, serving as an assertion of one's independence in society and on a deeper, more personal level. It could stem from an almost instinctive call to the wild, stepping out your door into something far greater than yourself. It allows you to realise your small spot in the universe. It is seemingly unusual for human beings to embrace discomfort and hardship as readily as they do when they eagerly dash from under their parent's doting wings in order to grow their own. The evolution from poor and bearded and worn out shoes to volunteering for the Shamwari Vet Eco Experience programme is a massive jump.
Beginning in the radical literature of the counterculture in America, the seeds of an unbridled ache for adventure were sewn into popular culture. Gone were the days where every youngster wanted to start a family with a white picket fence and grow two and a half kids. They were stifled and trapped. They needed to break out. The result was Kerouac's On the Road and films such as Dennis Hopper's brilliant Easy Rider. While containing deeper and far more complex commentaries on contemporary American society at the time, both narrated an urgency for freedom not found in the familiar or the expected. Writers wrote about the simplicity of life on the road, the sweet satisfaction of manual labour or the fascination with sleeping under the night sky, marvelling at the constellations and the stars that bore their names. This tradition has been interpreted in our own time with the success of Into the Wild.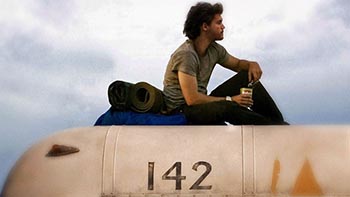 http://image.tmdb.org/t/p/original/7ew34slCsg4GrTlscCjBOxv0gR.jpg
Fast forward half a decade and things have changed on the surface to some degree. The gap years are softer and seemingly not as rough: ski lodges, south-east Asian beaches or waiting in the urban sprawl of London are popular destinations. But inside the heart of every dreaming teenager lies that genuine need to escape. The storm rages beneath the skin and they need to settle its churning waves and turbulent winds. The gap year has now reinvented itself. It is perhaps less intense an experience as those felt by the characters in literature (who did in fact accurately mirror the opinions and actions of many youths at the time) but nevertheless follows the same pattern of escape.
No longer are you simply an irrelevant pawn in the agricultural industry as you hitchhike, beg and steal your way to the next aimless destination or next farm job. Instead, what is encouraging is that the gap year has acquired a selfless dynamic where, however misguided, people journey out to help instead of only focusing on validating some spiritual identity. No longer is their existential crisis taken out in a glorious trail of selfish fulfilment that spans whole geographic regions. Now it is directed at bettering the world around them.
The modern 'gap yah' has come in for some flak in modern times. Criticised for promoting a false, self-righteous sense of purpose, it has rightly found its place amongst social critics. Tales of delusional rich kids setting out to find some superficial fulfilment abound. Compounded by the hilarious viral videos on Youtube, the 'false gapper' identity is hard to miss because of its truth and relevance in this new generation of adventurers. There is a poignancy surrounding the death of a carefree gap year of adventure and mistakes and innocence lost.
Now is the time for helping the world. No matter how genuine or sincere the intent of these young students is, what is important is the extra voluntary hand that is being extended to those who need it. Everybody who has spent five minutes thinking about the issue realises that none of the greater problems of our earth will be solved if you go out of your way to take care of orphans in a foreign country or gain veterinary work experience in Africa. But as much as people love to hate it, perhaps the planet needs more love and compassion, no matter how small or insignificant.
Considering a gap year? Take a look at our projects and trips and start your adventure today!