Hapoor Junior was born in the Addo Elephant National Park in 1954 and sired by Hapoor, who was the dominating Bull who reigned over all from 1944 to 1968. Their temperaments were also similar in that he was clearly the leader of the Elephants in the Addo Elephant National Park, but he did not have the aggression or hatred towards humans, as his father had, as a result of growing up in a protected area.
Hapoor Junior was relocated to Pumba Private Game Reserve in 2005, when the Addo Elephant National Park decided to relocate twelve big bulls to Private Reserves in the Eastern Cape, to diminish the competition and fighting amongst the bulls in Addo. Hapoor at the time had been the dominating bull in Addo for 26 years, during which time he had killed 8 other bulls who had challenged his dominance. With Hapoor Junior now getting on in years Park Management feared that he would be challenged and killed by younger bulls. It was agreed that Pumba would provide Hapoor Junior with a safe home for the rest of his life. During the relocation programme Pumba purchased four of the twelve bulls to be relocated one of which was the iconic Hapoor Junior who at that stage was 51 years old. The other bulls were his 38 year old younger brother Derek, 21 year old Nick and 19 year old Koos. All the bulls settled into Pumba very well, with Hapoor Junior immediately imposing his dominance on the new herd of 14 Elephants. In 2007, tragedy struck when Derek challenged Hapoor Juniors dominance which resulted in his death.
Hapoor Junior remained an extremely well natured and relaxed bull who had sired 4 calves at his new home. He dominated all on the reserve including tractors and game viewing vehicles. Hapoor Junior was admired and respected by all field and lodge staff. He would often visit the lodges, coming right into the gardens to help himself to delights such as Tree Aloes and Kipersols, or would visit the conference room at Pumba Water Lodge, to use the thatch roof as a site to scratch his ears.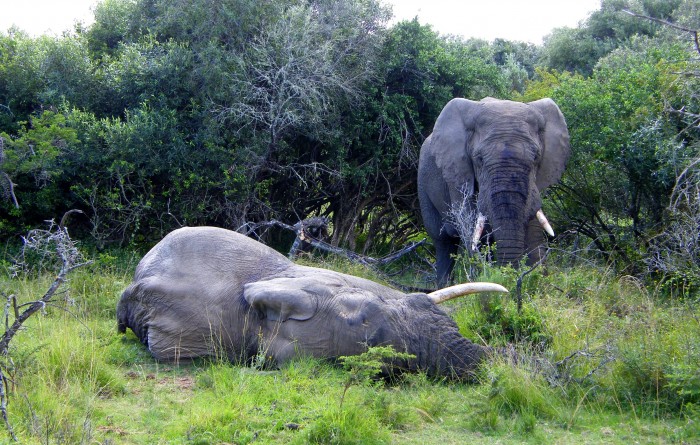 In 2011 it was noted, that Nick was becoming a more opposing feature regarding Hapoor Juniors dominance, with skirmishes between the two breaking out once in a while, though with Hapoor Junior getting the upper hand. It was with great sadness when a Field Guide, noted loud screams being made by an Elephant at about 10H30 on the 06th March 2012. The Legendary Hapoor Junior had been severely wounded by Nick, wounds that would simply not be healed. Nick showed no remorse towards him, as he asserted his dominance on Hapoor Junior, by continually mounting him. Hapoor Junior at the age of 58 did not survive from his wounds, as the Conservation Management team, watched in sadness as a peace of Eastern Cape History took its last breath. For thoughs of you who knew Hapoor Junior, would understand that he was an amazing Elephant Bull, who had encountered numerous challenges in life, and witnessed a piece of History for which only some of us have read about. I truly believe his name will live on forever, in stories told by those who had special encounters with him. May Hapoor Juniors Legacy live in thoughs offspring he has sired.