PROJECT OVERVIEW
Project Type: Marine Conservation, Shark Cage Diving.
Location: Western Cape, South Africa.
Pick Up Point: Cape Town.
Duration: 1 – 4 Weeks.
Price: please contact for pricing
Start Dates: 1st and 15th of each month.
Accommodation: Volunteer accommodation situated in Gansbaai.
Meals: Not included. Facilities provided at the accommodation
Age Range: 17 Plus.
FURTHER INFO
South Africa has long been known for its abundance of Great White Sharks, making it a prime area to observe these magnificent creatures. The Great White Shark, which can grow up to seven meters (23 feet) in length and 4 tons in weight, is now a protected species in South Africa.
Your experience will take you on an adrenaline surging adventure experience in the heart of the world's Great White Shark mecca that will leave you in awe of these gliding torpedoes of power.
Volunteer for this project and become integral to the conservation of the greatest and yet most misunderstood, predatory force of the seas – the shark. Great White Sharks are intelligent and vulnerable and deserving of sympathy and respect. A complex and precious species, they are doing their best to survive.
White Shark Projects is a world-leading organisation that champions the cause of the Great White Shark and the Bronze Whaler Shark. Initially founded as a research institute, White Shark Projects has expanded its services to include an excellent film department, a diving and viewing centre and a separate conservation and education department.
As a volunteer you'll receive training in Great White and Bronze Whaler Shark biology, research, behaviour, conservation, shark attacks and basic seamanship including anchoring positions, wind directions and shark tourism. Weather permitting you will frequently go to sea, where you will become involved with all aspects of seamanship, shark conservation and ecotourism.
You will work with sharks from both above and below the water. You will observe the behaviour and interactions of sharks around the boat. You will be taught how to get in and out of the cage and how to remain secure and safe once inside it. Participants in the cages are taught to meticulously record their observations of the physical attributes and the behaviour of the Great White and Bronze Whaler Sharks.
The White Shark Projects volunteer programme is based in Gansbaai, South Africa. Gansbaai, situated approximately two hours south-east of Cape Town, is a seaside village which relies primarily on the fishing industry and tourism.
The Great White Shark fieldwork takes place around Dyer Island and other locations where sharks are abundant. Dyer Island (aka Shark Alley!) is arguably the best place in the world to see Great Whites.
Many other wildlife species on the island can also be viewed from the boat. Dyer Island is also the breeding ground for Jackass Penguins, Cape Cormorants and Gannets, whilst Geyser Rock which lies in close proximity to the island, is a breeding mecca for Cape Fur Seals and is currently home to approximately 60 000 seals. In season, whales and the occasional dolphin can also be spotted. This is the perfect habitat for the Great White.
Your Programme
– Welcome and induction by WSP team leader.
– Lectures on a variety of shark-related topics.
– Boat and cage preparation pre and post launch.
– Participation in data recording and weekly collation of all data.
– On bad weather days, local excursions could include Cape Agulhas, Hermanus, Betty's Bay and the site of the Birkenhead shipwreck.
– On certain days the boat is chartered exclusively for you and without tourists.
– The programme runs throughout the year from the 1st & 15th of every month.
The programme provides volunteers with hands-on, practical experience in working with Great White Sharks.
Cage Diving with Great White Sharks: Once anchored in the channel, the project makes use of a specially designed, secure, five man steel cage, which floats on the surface, with divers no more than 1m below the surface. Volunteers will be taught how to get in and out of the cage and how to remain secure and safe in the cage. Cage divers are responsible for recording observations on the Great Whites, including sex, size, markings and behaviour. Diving takes place on a rotational basis on good diving days. The duration of each dive depends on the diver, the number of eco-tourists and the activity of the sharks, but could be up to 20 minutes per dive.
ACCOMMODATION
Volunteers stay in a delightful sea-facing beach house situated right at the harbour, which bustles with action and boats as people head out to sea. Overlooking the Indian Ocean, the house is very comfortable with dorm rooms, a nice kitchen, a dining area, a lounge with television and video/board games and an outside entertainment area for those hot evenings.
There is a small supermarket nearby (volunteers usually buy provisions and prepare meals together) and the house is located in a very safe and beautiful area, where you can freely walk around anytime of the day or night. Please be aware that Kleinbaai is renowned for its shark – and not its night life! Nights can be a little quiet but having an enthusiastic group of volunteers that work well as a team both on and off sea provides entertainment in itself.
Couples, friends or families volunteering together who wish private accommodation may reserve a double room at an additional cost.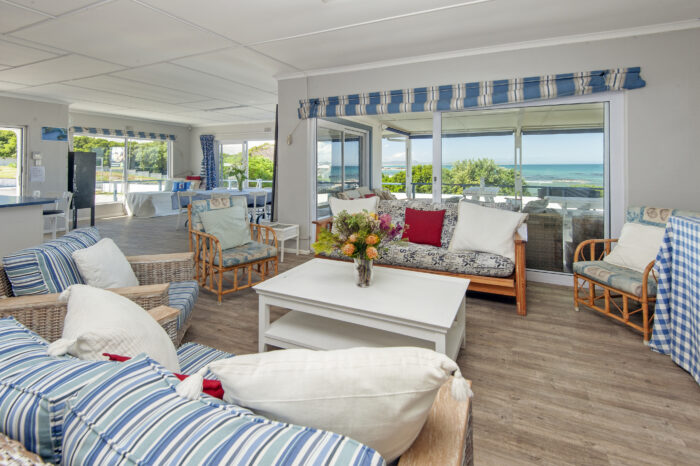 DESTINATION
The Great White Shark Project runs out of Kleinbaai, which is just outside of Gansbaai, South Africa – a seaside village located approximately two hours southeast of Cape Town on the Atlantic Ocean coast. The shark trips primarily take place off Dyer and Geyser Islands, about 6 nautical miles (11 km) or a 20 minute boat trip offshore. The boats anchor in the 6 meter deep channel ("Shark Alley") between Dyer and Geyser Islands. Dyer Island (larger island) is a breeding ground of Jackass Penguins, Cape Cormorants and Gannets, while Geyser Rock (smaller island) is a breeding ground for approximately 60,000 Cape Fur Seals.
Shark Alley is a magnet for Great White and Bronze Whaler Sharks due to this breeding colony of seals, their favourite prey and is a wonderful area for cage diving as there are reefs, islands and huge kelp beds which all provide protection from the open sea swell and wind. In the summer months they work off-shore closer to Joubert's Dam. Please note that the cage diving location is subject to change depending on the weather conditions and location of the sharks.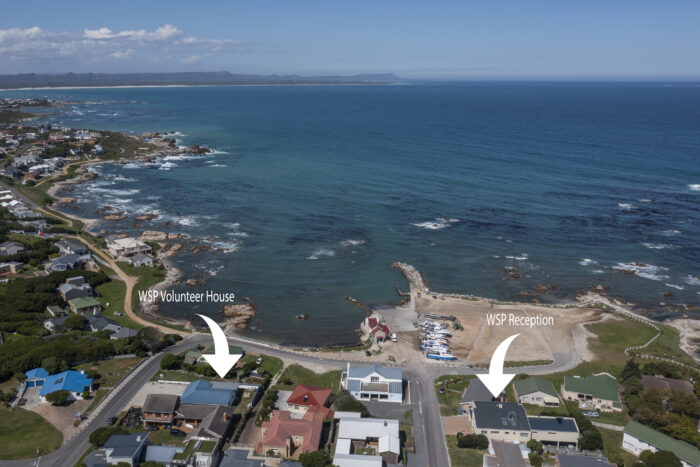 RATES
Please contact us for rates
PAYMENT
£200 deposit to secure placement at time of booking, final balance due 8 weeks prior to departure.
INCLUDED
– Pre departure support and documentation.
– Programme fee and contribution.
– Return Transfers from Cape Town.
– Accommodation for duration of stay.
– Housekeeping costs.
– All transportation on project.
– 24 hour in country support.
– 2 Volunteer T-shirts.
– Lectures and related research activities.
– Trips on Shark Boat and programme materials.
NOT INCLUDED
– Flights.
– Travel Insurance.
– Meals.
– Any vaccinations as recommended by your GP.
– Internet access.
– Soft drinks and snacks.
– Any visas required.
– Any additional activities outside of project itinerary.