Project Overview
Project Type: Conservation & Research Project
Location: Various sites, KwaZulu-Natal, South Africa.
Arrival/Departure: O.R. Tambo International Airport, Johannesburg
Duration: 13 nights
Rates: Based on tailored group needs
Start Dates: Mondays
Accommodation: Safari Tented Camps on Game Reserves and guest house in St Lucia.
Meals: Three meals per day included.
Age Range: 17 Plus.
FURTHER INFO
The qualified and experienced team at the KwaZulu Conservation Project offer a bespoke course to each institution dependent on their own personal objectives and learning needs.
We set out the basis of the trip, comprising of a 10-day academic module split between the two conservation reserves plus the 2-day coastal module.
A full 9-hour day will be planned but will vary from day to day depending on the days task and research goals.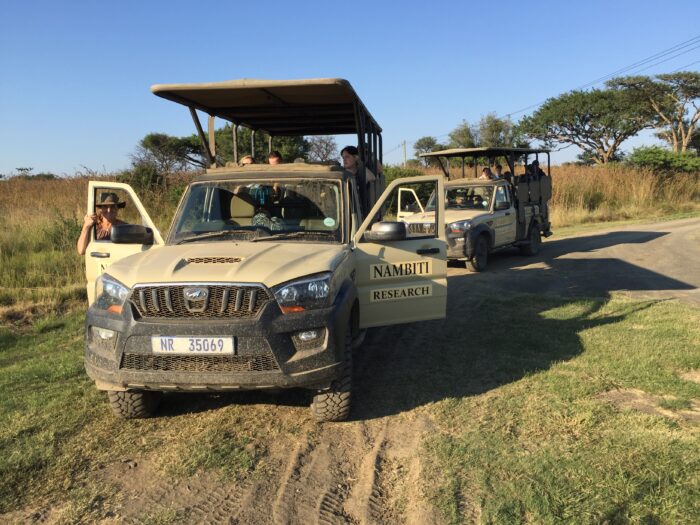 Project split and duration are as follows:
12 Day Itinerary
Nambiti Big 5 Conservation Research (Days 1 – 6)
Nambiti Game Reserve is a magnificent 23,000 acres of unspoiled wilderness boasting the Big 5 and incredible biodiversity (grasslands, riverine bush, savannah and thornveld) offering unprecedented diversity of wildlife.
The Nambiti Conservation Programme
Students will be taught and work alongside the field guides and conservation team. The following examples depict the day to day activities that may be undertaken as part of the project at Nambiti.
Alien Vegetation Control /
Reserve Maintenance
Spatial Distribution and Habitat use of species
Use of Telemetry Tracking
Elephant Monitoring / Population Study
Rhino Monitoring – Awareness and Anti-Poaching
Monitoring Herbivore Condition & Health
Camera Trapping
Habitat and Prey Selection of Predators
Research: Leopard | Hyena | General
Birds in Reserve Census – ID and Migrations
Educational Bush Walks – Ecology & Botany
Tracks, Signs and Spoor
Reserve Sleep Out – Wilderness Experience
Cultural Home Stay
Community Development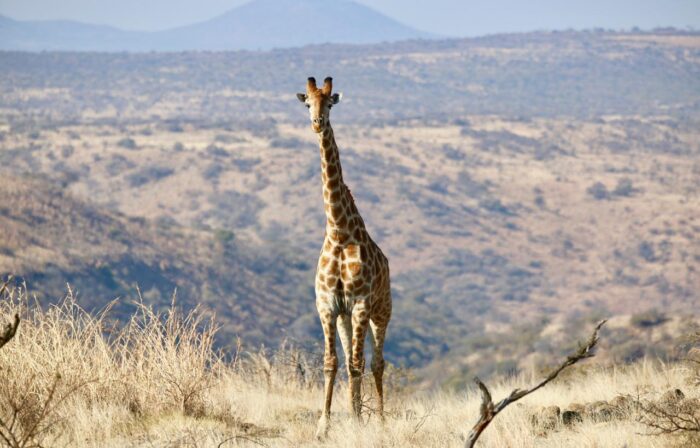 Zingela Wilderness Conservation and Adventure Activities (Days 6 – 10)
Zingela Wildlife Reserve covers 12,500 acres of predator free, pristine African bushveld. You will have the opportunity to gain valuable skills in assisting with the novel, hands-on research that takes place at the property as well as receive talks and lectures from these experts in their fields . You will also have the chance to participate in a host of adventurous, fun activities during your stay.
Zingela Conservation Research Progrogramme
Students will be led by experienced field/adventure guides and researchers. The following examples depict the day to day activities that may be undertaken as part of the project at Zingela.
Fresh Water Ecology Survey
Giraffe identification and tracking
Reptile and small mammal survey
Carbon project
Bird ringing
Night time activities: frogging, scorpions, wild pigs, cooking competition
Presentations on various topics
Hiking, rafting, rock climbing, abseiling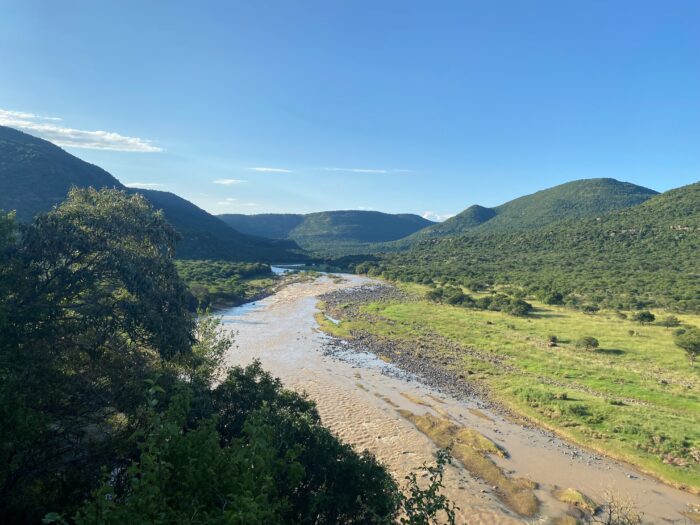 St Lucia Add-on Coastal Module (Days 10 – 12)
St. Lucia is situated on the northern side of the estuary, the largest in Southern Africa and is totally surrounded by the iSimangaliso Wetland Park and World Heritage Site. The area is famous for its wetlands and is a fantastic opportunity to witness the Nile crocodile and hippopotamus in their natural environment.
The St. Lucia leg can include the following activities:
Markets, shopping, exploring the coastal town
Open safari vehicle drive
Hippo and Croc boat cruise on estuary
Forest birding walk
Croc Centre Tour
Horseback Safari
Whale watching trip
Walking and relaxing on beach
Snorkeling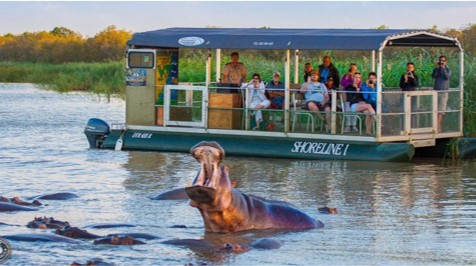 ACCOMMODATION
Game Reserve Camps – Nambiti and Zingela
In keeping with the Safari Adventure theme, groups are accommodated on the reserves in comfortable safari tents, but with proper beds and bedding – so practically 'glamping'! At both camps there are communal hot and cold showers and regular flushing toilets. All meals, often traditional South African dishes with locally sourced ingredients, are provided in communal dining areas. On weekends a traditional braai (BBQ) is often organised.
If students opt to sleep out there are basic camps around the reserves that can be used for sleep outs which will include sleeping under the stars, learning how to make a fire and cooking on it!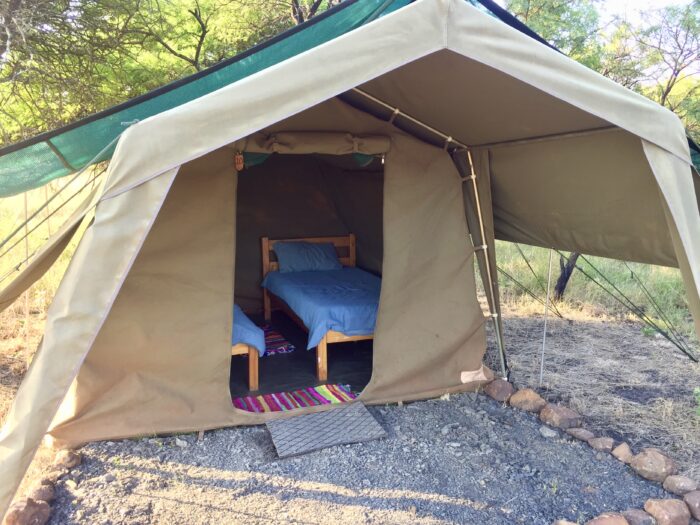 Nambiti tent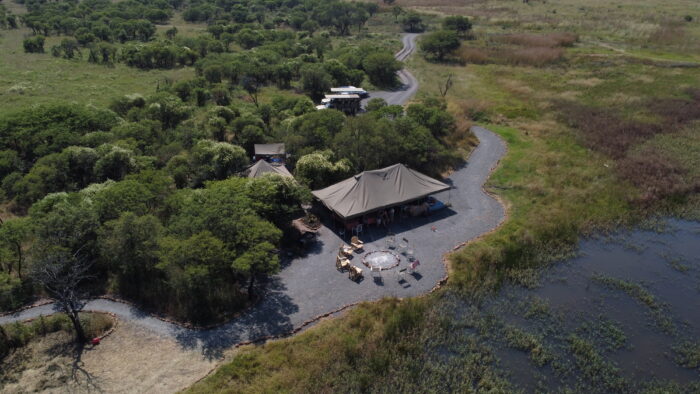 Nambiti camp from above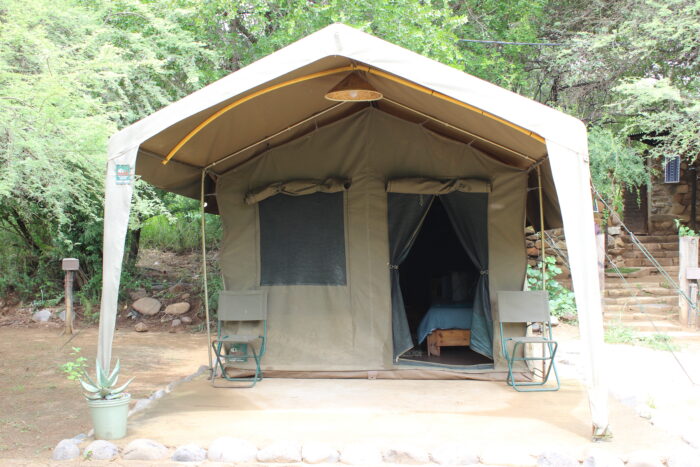 Zingela Tent
St Lucia Coastal Accommodation
Guest House style accommodation is provided during your time in St Lucia. Rooms are shared and have communal ablutions. The guest house is located in the heart of St Lucia's Main Street and is the ideal location to explore the surrounding areas.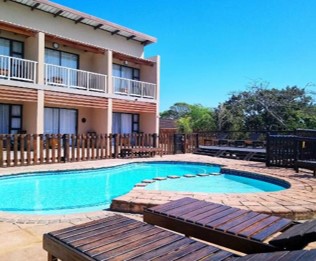 RATES
Based on tailored group needs
PAYMENT
£200 deposit to secure placement at time of booking, final balance due 8 weeks prior to departure.
INCLUDED
Flights
Transfers to/from project
Accommodation
Three meals per day
All activities as part of the project
ATOL protection
Airport meet/greet
24/7 In country support
NOT INCLUDED
Personal Travel Insurance
Meals on travel days – before arriving & after departing from project
Any activities not specified as part of the project
Visa's/travel documents
Tips